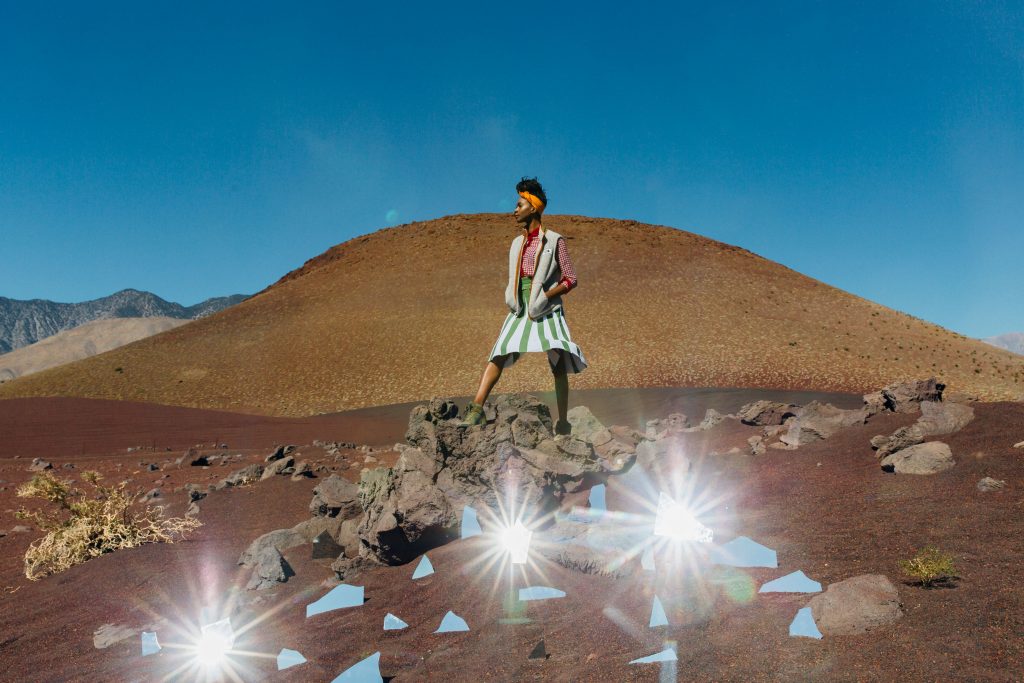 We're Creative ConnectorsTM
We're multidisciplinary creatives obsessed with the intersection of design + culture in the great outdoors.
Experts in each of our respective fields, we're trend forecasters, producers, strategists, storytellers, and social documentarians living our best lives in URL and IRL. A small but mighty team, we're committed to fostering forward-thinking design and generating innovation.
We inspire and support our clients through every step of their process, working closely on collaborative research, concept brainstorming and real-world production because we believe meaningful partnerships get to the heart of the connection between consumer and brand.
TREND + COLOR FORECASTING
PRODUCT DEVELOPMENT
PRESENTATIONS + WORKSHOPS
We specialize in trend + concept for brand and product development delivered one to two years in advance of the market. On a seasonal or annual basis, our bespoke reports are comprised of macro and micro trends, color palettes, materials, and design direction, according to client-specific needs.
We offer custom-tailored presentations and workshops as well as dynamic presentations for trade shows, conferences and off-site events.
CONSUMER INSIGHTS
BRAND POSITIONING
GO-TO-MARKET STRATEGY
Informed by culture, data, and consumer research, we work closely with clients to refine brand positioning and overall intent. We develop go-to-market strategies inspired by our client's vision, purpose, pillars and objectives. 
This holistic approach to product and content, offers an inspirational and unique point of view which is relevant to both the market and the consumer.
SEASONAL CONCEPT KICKOFFS
IMMERSIVE WORKSHOPS
MARKET TRAVEL + SHOPPING
To spark true creativity, one must step out of their everyday environment. We curate personalized market trips around three pillars: immersion, culture, and community. These guided journeys are meant to act as a roadmap for seasonal trend, design, and marketing direction. 
Each custom trip will be meticulously planned out and led by RANGE. Utilizing a number of sensorial mediums we'll ensure your team is genuinely inspired and ready to dive deep into product development and supplemental storytelling.
BRAND EXPERIENCE + ACTIVATIONS
SOCIAL MEDIA + BRAND PARTNERSHIPS
BRANDED CONTENT
We excel at forward-thinking visual communication and art direction. Our production experience ranges from look books and video to activations and pop-ups.
We manage all aspects of social media platforms for select clients, from content creation and community engagement to brand partnerships. As creative connectors we pair brands with our network of artists, activists and creators to craft dimensional, authentic feature stories across multiple verticals. We also love to collaborate on customized branded content for our in-house publication, RANGE Magazine.

FOUNDER + CREATIVE DIRECTOR
VANCOUVER, BRITISH COLUMBIA
Jeanine Pesce is a dynamic creative connector with the ability to inspire, interpret and execute client objectives through every step of the strategic process. As the founder of RANGE, she has become the go-to woman for tracking global trends in the outdoor, active and lifestyle categories, identifying and leading shifts in the market. In 2012, she launched RANGE, an independent agency and magazine specializing in customized consulting, collaborative strategy and branding, multi-platform content creation, and creative production.

ACCOUNT DIRECTOR + PRODUCER
PORTLAND, OREGON
Whitney Connolly has a 10+ year track record of leading multidisciplinary teams on a wide range of creative, innovative projects in brand storytelling, retail design and global events. She is able to identify the front-end questions that allow a creative solution to solve a business problem, and balances future-thinking and a passion for breaking new ground with a dedication to details that deliver world-class projects

DIGITAL MARKETING MANAGER
PORTLAND, OREGON
Lisa Dougherty is a digital storyteller focusing on marketing and content production for RANGE, bringing her enthusiasm for art and adventure to client projects and editorial. Beginning her career in production and marketing in 2010, Lisa specialized in digital business affairs while working with companies like Google and adidas on broadcast, digital and experiential campaigns. A NY native who now calls the PNW home, she enjoys crowd surfing, exhibits and volunteering.

DIGITAL CONTENT EDITOR
PHILADELPHIA, PENNSYLVANIA 
Johnie Gall is a writer, photographer, and producer. Her work examines the relationship between humans and the environment, the goal being to amplify stories of climate change activism, public lands policy, responsible outdoor adventure, and recreation used a tool for positive change. Her career has taken her from an editorial position at a surf magazine and photographing a series on adaptive athletes, to helping produce a 250-mile run/film project advocating for the protection of public lands, to documenting the first unsupported kayak crossing of the Florida Straits to raise awareness for refugee policy reform.

HEAD OF TREND + CONCEPT
LOS ANGELES, CALIFORNIA
Nina Stotler is passionate about analyzing global movements in culture and design without losing sight of real-world strategic goals. As head of trend and concept for RANGE, she values sparking creative inspiration for product development and marketing teams. Starting out as a fashion editor and writer in NYC, Nina has worked in trend forecasting for over 10 years, collaborating with companies like Levi's, Stahl and Cole Haan. She is now based in Los Angeles and loves experiential art, swimming pools and exploring small Southwestern towns.

ART DIRECTOR
PHILADELPHIA, PENNSYLVANIA
Jonathan Cammisa is a visual artist and graphic designer. As art director at RANGE, his designs steer the brand voice across all platforms, adding a special energy to bespoke editorial client projects. He has put his unique stamp on communications for brands like Vans and Urban Outfitters, while also co-founding the Victory Press clothing line. Jonathan is based in Philadelphia and enjoys being a new dad and running with his dog.

MANAGING EDITOR
BARILOCHE, PATAGONIA
Emily Hopican is a story strategist with a focus on outdoor adventure and social + environmental impact storytelling who craves adventure, revels in art and cherishes good storytelling. Through writing, photography and video, she creates, edits and shares honest stories based on her own experiences as well as those of others. She's passionate about people, brands and projects that have social or environmental impact, inspires action, and positively impact people and places. Her hunger for travel, outdoor adventure and new challenges took her to Patagonia, where she currently lives.

BRAND STRATEGIST
DENVER, COLORADO
Sophie Goodman is a strategist, creative storyteller, and writer whose work lies at the convergence of art and business. She specializes in innovative go-to-market strategy and guiding early growth brands towards unprecedented consumer engagement. With a passion for the outdoor industry, Sophie spent the early part of her career launching start-up digital platforms like telluride.com and OutThereColorado.com and has led campaigns for brands like the Subaru Adventure Team and Icelantic Skis to bring their brand stories to life in the digital space. Sophie is based in Denver and loves exploring the Rockies in all seasons.